Reclaim Your Mojo
Feel like yourself again.
Has your inner spark been a little dull? Or non-existent?
Has it been snuffed out by too many loads of laundry, school lunches and an overwhelmed schedule that never has time for you?
Do you wake up each day and feel like it's groundhog day?
You don't have to feel flat, tired or lost. 
You can get your mojo back. 
Remember what it's like to have mojo?
When you felt alive and had energy and a sense of joie de vivre!
You might think you need to take a long holiday, quit your job, divorce your spouse, marry rich and/or sell your kids to get it back.
But that's just not true (and actually, illegal when it comes to the last one, as tempting as it might be some days). 
You're just a couple of simple strategies and 21 days away from feeling more like yourself.
Feeling more like your old self – the self you were before everything crowded in on you until you disappeared.
Life has a way of getting away from us.
You're too busy to slow down.
Things are too hectic to think.
You have too much to do, too many obligations to meet, and not enough time in the day.
But you're desperate for something better.
You're tired of being tired. Over being overwhelmed.
You need help, you need to make a change, but you also need it to be simple, fast and … well, simple and fast!
So here you go …
 I grant you these three wishes
Get your mojo back and feel more 
NOURISHED BALANCED INSPIRED
INSPIRED
Each week, you'll do one class designed to help you delve into what you want for yourself & your life.
Nourished
Each week try a simple idea to help you eat better, have more energy and look after your body without stressing about it.
Balanced
A lesson each week dedicated to helping you create more space and time, feel centred and more at peace.
In 21 days you can reclaim your mojo.
"I would just like to say a massive thank you. I found every part of the course beneficial. Through your course, I learned to get inside my own head … I had to work out who I am, what sort of mum am I,  what I fear most, what makes me happy, what inspires me."
Danielle
This is a program to help women who live in the real world – where you have a busy hourshold and limited time.
It's about SIMPLE strategies that you can implement EASILY into your life, without huge cost or a lot of time.
Aaaaand, it is SUPPORTED – it's not a DIY course. It includes in person coaching because a bit of encouragement goes a long way to helping you implement changes.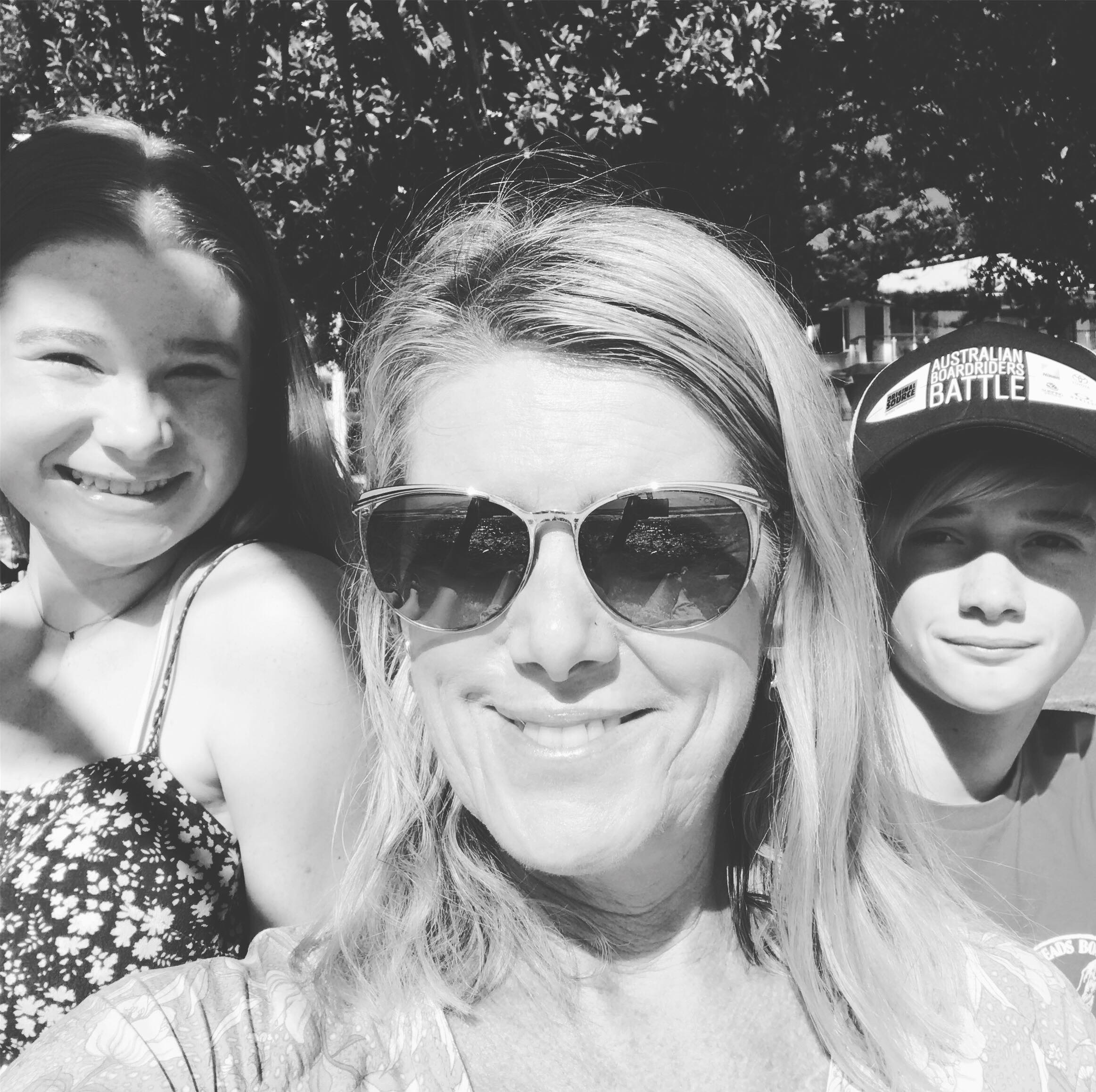 Looking after kids and households and working is enough to sap the life out of anyone. It really is. I've been there. Just like you, I poured everything I had into looking after these two, and maintaining a professional life. And marriage. And household.
After many years of pedalling as fast as I could, I felt empty and wrung out.
I studied to be a health coach, and started experimenting with quick, simple ways and strategies to feel more like myself, have more energy, stress less and enjoy my life more.
I've been using these strategies now for almost a decade, so I know they'll work for you too.
Reclaim Your Mojo is a selection of those strategies, designed to take you quickly back to yourself and set you on your way to feeling more like the woman you want to be.
"Thank you again, I really got so much out of it and I know it will continue to influence my life and decisions. My husband said the other day he's loving seeing me so much more relaxed and calm, and enjoying life instead of stressing so much."
Bec
How would life change if you had your mojo back?
With mojo, you're less snappy, more smiley.
Less stressed, more zen.
Less ratty, more friendly.
Less empty, more enthusiastic.
RECLAIM YOUR MOJO
Online group program
21 days;

Three classes of focus a week, with videos, downloads, and exercises, accessed through our membership portal;

Private Facebook group so you can share and be supported;

Weekly live group coaching call.
Your Title Goes Here
Your content goes here. Edit or remove this text inline or in the module Content settings. You can also style every aspect of this content in the module Design settings and even apply custom CSS to this text in the module Advanced settings.
How much time do I need each week?
Each lesson is 30 minutes or less. Some just minutes. The coaching calls will run for up to two hours, depending on questions. So allow an hour a week for the lessons, and an hour for the calls and you should be fine!
How long do I have access for?
Your access to the classes will close after six weeks. This is to ensure you have enough time to do all the classes, go over them again and get the most from the content, but have a close-by date so you don't procrastinate and put it off indefinitely and not do it. I want you to succeed!
What if I can't make the coaching calls?
There won't be any recordings or replays of the coaching calls to protect the privacy of participants. You can ask any questions in the Facebook group though.
Do you offer a refund?
If you change your mind within 48-hours of purchase, then yes, you can receive a refund.
Let's get your mojo back.